Supporting Your Business
Speaker Series
Speaker Series schedule coming soon!
Space for Lease
Units available range from 2,000 SF to 16,000 SF. Available for occupancy in fall 2018.
Click here to download the space brochure
Click here to download the realty brochure
Resources to Get Started
Our new National Entrepreneurs is a great central location for either growing small businesses or emerging start-ups to target advancements in developing manufacturing or IT products and processes in the heart of Cambridge, Ontario's industrial sector. Our community is targeted to attract seasoned trades experts as well as new graduates from various Colleges and Universities to start their businesses. We offer a wide range of support to your business that includes:
A comprehensive package to meet all operating and administrative needs for new businesses
Affordable open co-working or enclosed work spaces
Conference rooms, private meeting rooms, and town hall event space
A virtual or physical address for your new business
Ample parking spaces available
All standard enmities for an work space environment (ie. Tea & coffee service)
And much more!
A Home for your Business
Be part of the growing Entrepreneurs program. Our facility is located near Maple Groove and Boxwood Drive just minutes away from the Toyota plant. Also, the close proximity to HWY 401 offers business owners immediate access to all major arteries of the Tri-City. Our head office offers a beautiful state of the art town-hall with the capacity of over 100 attendees, 3 community boardrooms, and over 70+ parking spaces. By joining our community, you will have access to:
Open co-working or enclosed work spaces ranging from 50 to 350 sq. ft
Ethernet and wifi internet
Access to setup office IP phone systems
Access to recreational facility (coming soon)
Booking of community boardrooms
Booking of town-hall event space
Kitchenette with coffee services
Access to dedicated parking spaces (dependent on availability)
Incorporating your Business, Accounting & Tax Services
We take a proactive approach to your tax service needs. By keeping up-to-date on new tax laws and legislation, we are in a great position to help identify key tax planning opportunities that minimize both your current and future tax liabilities. By becoming a member with National Entrepreneurs, you'll be given competitive rates for the following administrative work:
Advice on incorporation & timing
Discounts to incorporate companies
Year round discount on bookkeeping services
Corporate T2 tax submissions
Personal T1 tax submissions
Discount on SR&ED claim preparation
For more information on our tax services, please click on the below:
Other Services
Need help finding the right suppliers? We have just the right professionals to help you build your business. Upon becoming a member with us, you'll have access to the following essential services at competitive rates:
Website development services
Logo development
Printing services (signage, business cards)
IT administration services
Individual & group health benefits
Insurance resources (tenant, liability, etc.)
Small business banking resources
Pre-paid legal shield services
Membership Pricing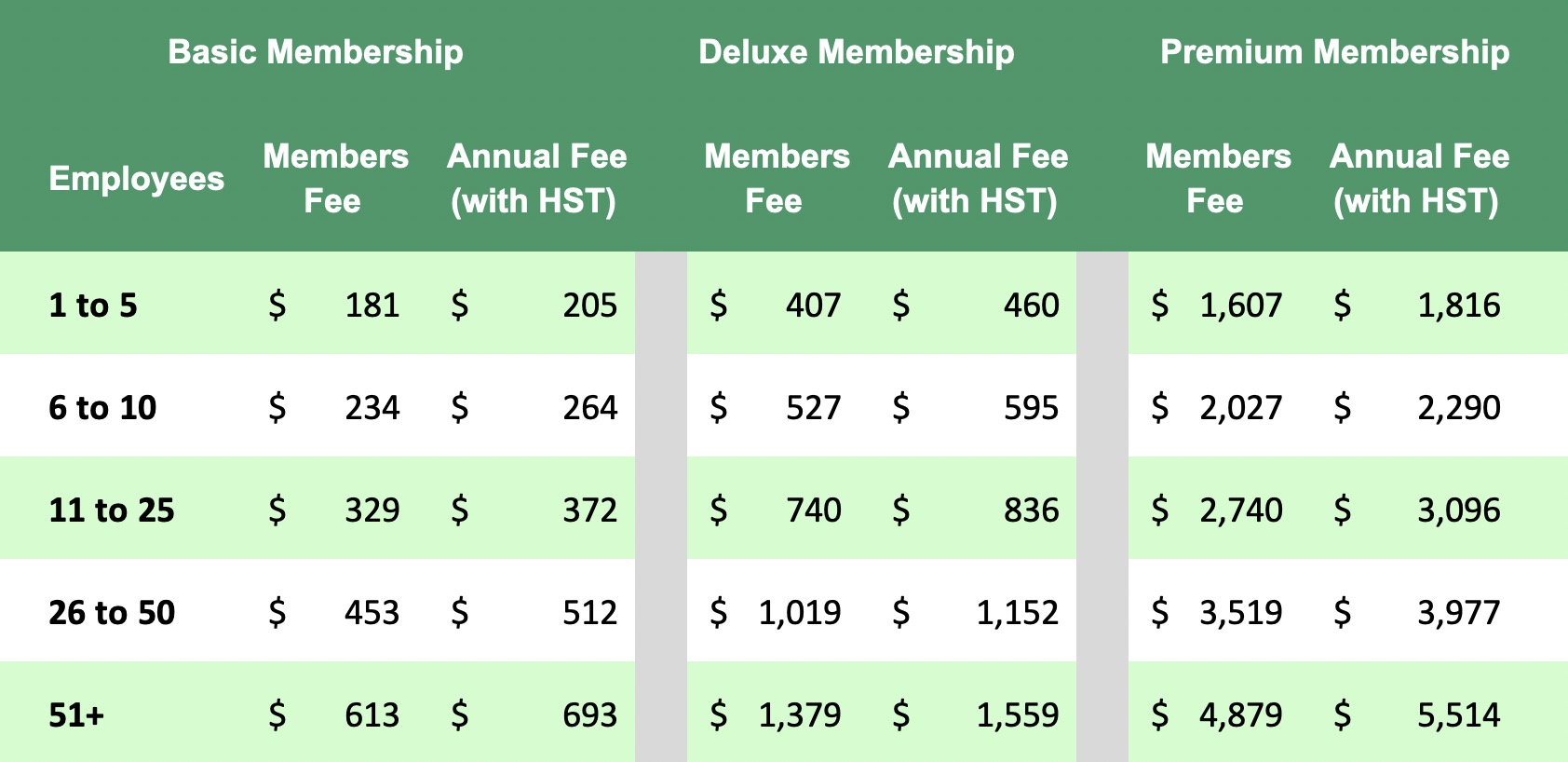 Become part of our growing community! Whether you're a small start-up or an established small business, we have a great membership program that helps reduce administrative and operating costs throughout the year.

If you are a new business working from home, the basic membership will connect you up with various resources that offer competitive rates for our members ranging from accounting & tax expertise, legal advice, IT administration, web development, extended healthcare benefits, etc.

If you are a small business in need of industrial or office space, our premium membership will provide you additional resources at more competitive rates to grow your business.

A Summary of the membership benefits are detailed below: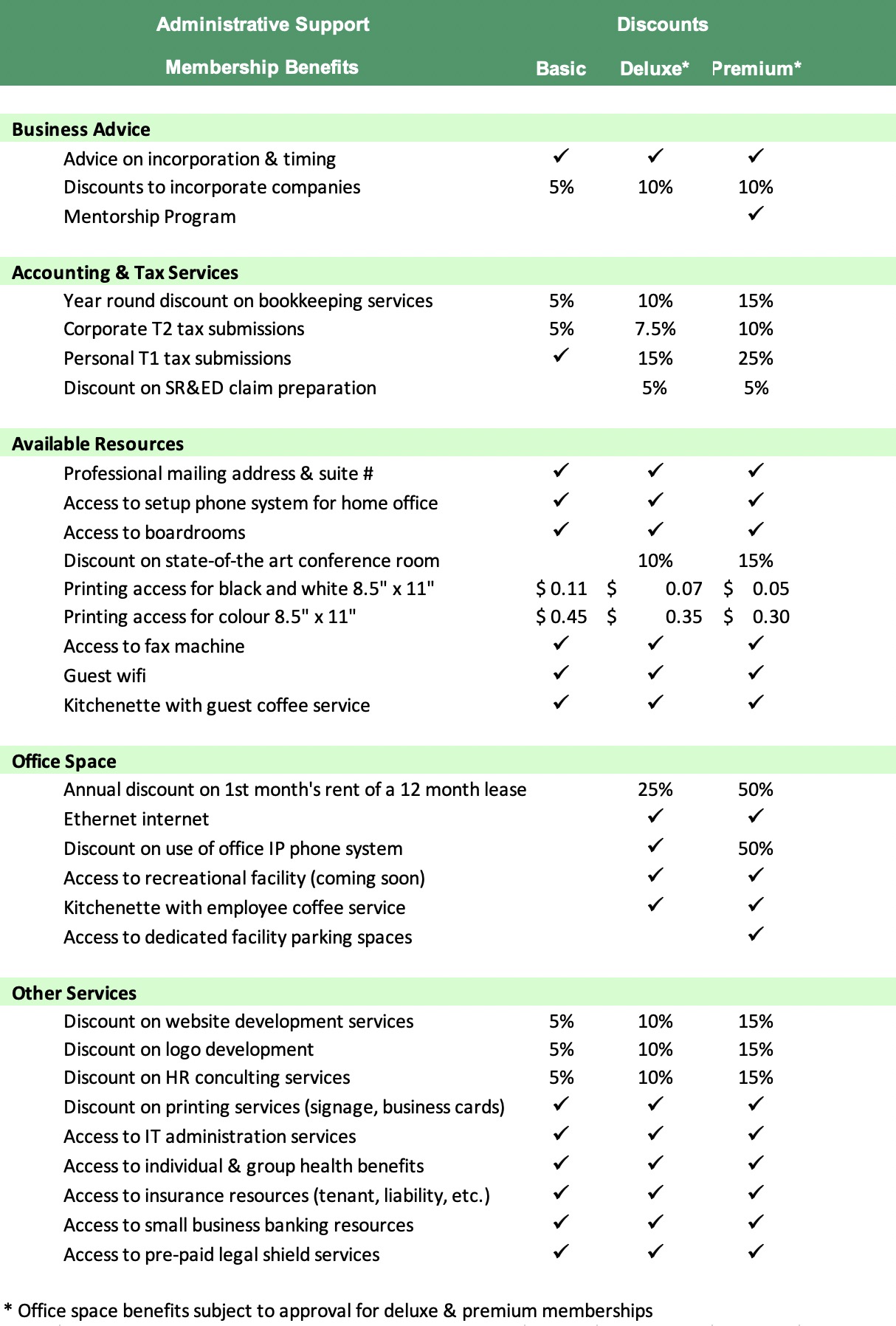 Work Space Pricing
Standard member pricing for our work spaces are summarised below:

To join our community, please contact us by phone or email!